COVID-19 & Elections View
ADN Webinar on June 12, 2020
Last updated 2020-06-16
attachment
ADN Webinar on June 12, 2020
The Secretariat of the Association of World Election Bodies (A-WEB), the Asia Democracy Network (ADN), the Asian Network for Free Elections (ANFREL), and the Korea Democracy Foundation (KDF) co-hosted a webinar on the topic of "Implementing Elections during a Pandemic" on 12 June 2020 with the aim of exploring successful cases of implementing elections during the pandemic with member organzations and partners in Asia.
The webinar started with greetings of Mr. Ichal Supriadi, Secretary General of ADN, and Ms. Chandanie Watawala, Executive Director of ANFREL.


Two officials of the Training Department, A-WEB Secretariat, Director Juhwan Lee, and Deputy Director Jinju Jo were invited to present at the webinar.
Deputy Director Jo talked about the measures that the National Election Commission (NEC) of the Republic of Korea prepared and implemented to ensure a safe voting environment for voters and protect voting rights of people suffering from the pandemic and those under quarantine.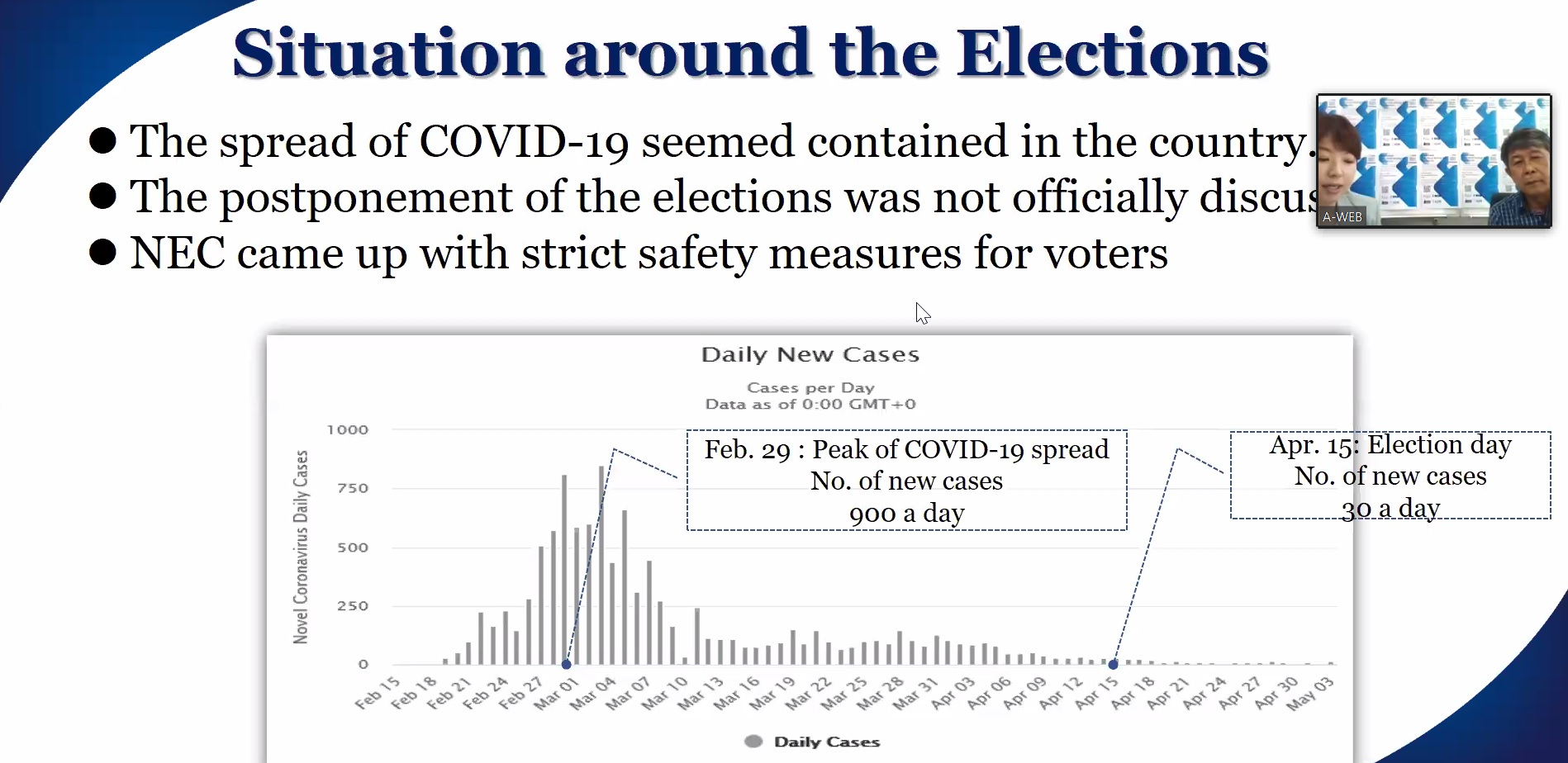 Mr. Damaso Magbual, Board member of ANFREL mentioned that to postpone elections during a pandemic, countries must be guided by norms and principles; they should be in keeping with the legal framework; have the broad support of elections stakeholders; the public must be informed of reasons; must not be open-ended; and must be guided by health experts.
Regarding the successful aspect to be considered in the 2020 National Assembly elections in South Korea, Director Lee mentioned that the NEC implemented the precautionary measures on time to prevent any transmission of the infectious disease and the country already put various voting options in place to ensure rights to vote. He also added that as every country is in a different situation, it should be considered whether the measures of South Korea would be suitable to each countries' context.

The audiences actively participated in the Q&A session after the presentations, asking questions regarding how South Korea safely conducted the elections amid the pandemic.

As some of the member EMBs have been preparing for upcoming elections in their own countries this year amid the continuing threat of the COVID-19, the Secretariat will do its utmost efforts to share, with those members, lessons learned of countries that already safely conducted elections like South Korea.
*Co-organizers

The Asia Democracy Network launched in April 2013 with over 100 NGOs and civil society organizations from 26 countries. The network aims to promote and consolidate democracy and democratic governance, making use of international cooperation and solidarity in the fields of information sharing, capacity building, and research.
The Asian Network for Free Elections was formed in November 1997 as Asia's first regional network of civil society organizations. Its main focus is to observe pre-and post-electoral processes and to train civil society groups working on promoting democracy in their own countries.

The Korea Democracy Foundation is a nonprofit organization and was established on 12 November 2001 with the mission of promoting democracy in Korea. It undertakes diverse projects and organizes events in a wide spectrum to fulfill its mission.