News View
[A-WEB Secretariat] Election Management Capacity Building Program : [Phase 2] Strengthening Voter Education Course
Last updated 2021-09-07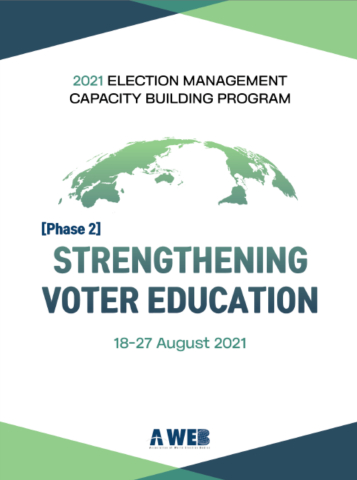 As part of the 2021 Election Management Capacity Building Program, Phase 2 of the Strengthening Voter Education Course was offered from 13 to 27 August 2021 for 18 election officials from five election management bodies.

The A-WEB Secretariat conducts the program as part of the International Development Program of the Government of the Republic of Korea. It serves as a forum for the exchange of knowledge and experience in election management.
Phase 1, which was offered from 13 to 22 April 2021, was designed to allow participants to review their current voter education programs and participating organizations' voter outreach strategies and share good examples of voter & civic education activities conducted by other EMBs.
Phase 2 provided a chance for participants to develop voter education programs for certain target groups applying what they learned from Phase 1.
The upcoming program is scheduled to be held in the second week of September. More details about the upcoming CBP course will be shared on
the A-WEB's official Facebook Page
. For any inquiries about the Election Management Capacity Building Program, please get in touch with the Training Department at
training.aweb2018@gmail.com.